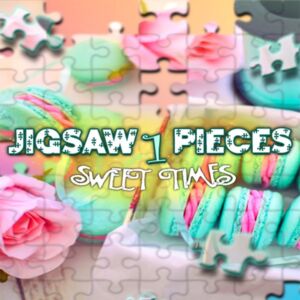 ---
Title: Jigsaw Pieces: Sweet times
Release date:15-02-2021
Platforms: Steam – drm free
Genre: Jigsaw Puzzle
Price: € 9,99
languages: English, Dutch, German, French, Italian, Spanish, Russian, Chinese, Korean, Polish
---
Your daily dose of Jigsaw fun!
Making jigsaw puzzles is incredibly popular with young and old. Let yourself be carried away by this ultimate form of relaxation and enjoy the heart-warming pictures and cute photographs. In this beautiful puzzle collection in HD quality, puzzle enthusiasts of all ages will be surrounded with pure cosiness. Determine the level of difficulty for each puzzle and set your favourite, completed puzzle, as wallpaper!
Choose from a huge number of flowers and plants, cute animals, scenery, landscapes, food, picturesque houses, colourful sights and much more. Did you choose a picture? Select the amount of puzzle pieces and get started. Do you find it difficult to make a choice? Let us surprise you with a random puzzle! Make it more difficult for yourself by adding puzzle pieces from other puzzles. You can also leave out the preview image and borders. It's completely up to you how to enjoy this stunning puzzle experience!
Features:
7 game modes
8 chapters, and more levels in each next chapter
new game features: Random Pieces and Auto-Solve
Customizable difficulty, from easiest to incredible
HD quality and low system requirements
useful Hints and Bonuses for smart solving
great rewards every day
over 448 HD colourful levels
interesting daily puzzles
relaxing soundtrack
save levels as HD wallpapers for your desktop
Check out the screenshots