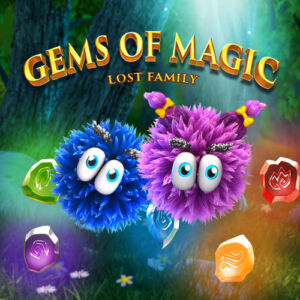 ---
Title: Gems of Magic: Lost Family
Release date: 21-09-2018
Platforms: Nintendo Switch – PC Steam – DRM Free
Genre: Match-3, Strategy
Price: € 9,99
Publisher: Denda Games
languages: English, Dutch, German, French, Italian, Spanish, Japanese, Russian
---
This magical Match 3 Adventure makes you work

!
Introduction 
Simple at the start, but quite challenging when you are further in the game. Enjoy the beautiful graphics, and use the power ups sagaciously. Save the colorful creatures of the lost family in the magic forest by solving the puzzles until their freedom. 
Please take a look at the Enchanted Forest, where magical creatures lived peacefully together in a beautiful surrounding. But now the Fuzzy family is in great trouble. The hurricane took the Fuzzy family, every one? No, a Fuzzy member of the family stayed behind, and is now desperately in search of his family! 
Can you help this magical creature to save his family in this incredible adventure? Make use of the unique boosters, avoid the spooky enemy which tries to block you during the game, enjoy the hand drawn scenes, and free the Fuzzy family through 90 challenging levels 
The story of Gems of Magic: Lost Family 
The Fuzzy family thoroughly enjoys a wonderful day in the woods. Grandma Fuzzy is busy knitting while her husband slowly dozes off in his rocking chair. Father and mother Fuzzy enjoy a picnic and only have eyes for each other. The two youngest members, brother and sister Fuzzy, are the sportiest of the bunch. They have brought a ball and are diligently tossing it to each other in the fresh forest air. They try to make it as difficult as possible for each other and soon things go wrong. The ball ends up in a hollow tree! 
As for brother Fuzzy, the fun isn't over. Without hesitation, he dives into the hollow tree to look for the ball. While he is safely in the tree, a terrible storm arose. When he reappears, the ball is found but his family is gone! Fortunately, he is not alone. A wise raven entrusts him with the secret of the magical stones. Help the brave brother Fuzzy find his family back by battling the bricks! Dive into dozens of levels of three-in-a-row fun and create as many combinations of identical jewels as possible. Think carefully about your moves because the number of moves is not unlimited! Buy useful boosters to complete even the most difficult levels. Can you reunite the fluffy family? They will be very grateful to you! 
Characteristics 
Denda Games is looking for the Fuzzy family

 
Find all family members

 

No less than 90 addictively fun levels

 

Form combinations of three or more identical jewels

 

Buy handy boosters in the store

 

Use hammers, substitute magic, lightning and mystery magic

 
Complete the levels within a limited number of moves

 

Complete all level goals

 

A colorful game

 

A clear game explanation

 
Check out the screenshots