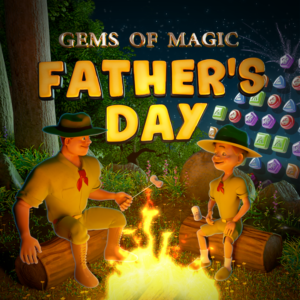 ---
Title: Gems of Magic: Father's Day
Release date:06-08-2021
Platforms: Nintendo Switch – PC Steam – DRM Free
Genre: Match-3, Strategy
Price: € 9,99
languages: English, Dutch, German, French, Italian, Spanish, Japanese, Russian, Simplified-Chinese, Korean
---
Remove all obstacles and reunite father and son in 100 challenging levels!
Every time a cheerful father and son venture out together, they end up in problems. That doesn't stop them to take a walk through the mountains! What can go wrong in a peaceful natural setting? Then father takes a tumble. Luckily, he's fine but he ended up down the mountain while his son is still on top of the mountain!
Help this clumsy but caring dad to find his son as soon as possible. Work your way through numerous levels filled with coloured stones to climb up. Make as many combinations of three or more identical stones as possible to remove all obstacles on your path and conquer the mountain.
Can you meet all level goals and earn three stars in each level? Use various power-ups to complete levels with greater ease. Don't keep the little boy waiting for too long because he's pretty lonely on top of the mountain. Enjoy the pleasant atmosphere and reunite father and son as quickly as possible!
Features
100 levels full of challenge
Help father climb the mountain
Reunite father and son
Remove all obstacles
Use various power-ups
Combine three or more identical stones
Beautiful hand-drawn graphics
A pleasant atmosphere
Check out the screenshots